Respiratory care for children and adolescents with neuromuscular diseases
Andreas van Egmond-Fröhlich (Vienna), Maria B. Chiarini Testa (Rome), Alessandro Onofri (Rome), Ulrike Sengseis (Graz), Claudia Bock (Essen), Anastasios Bouikidis (Oberhausen)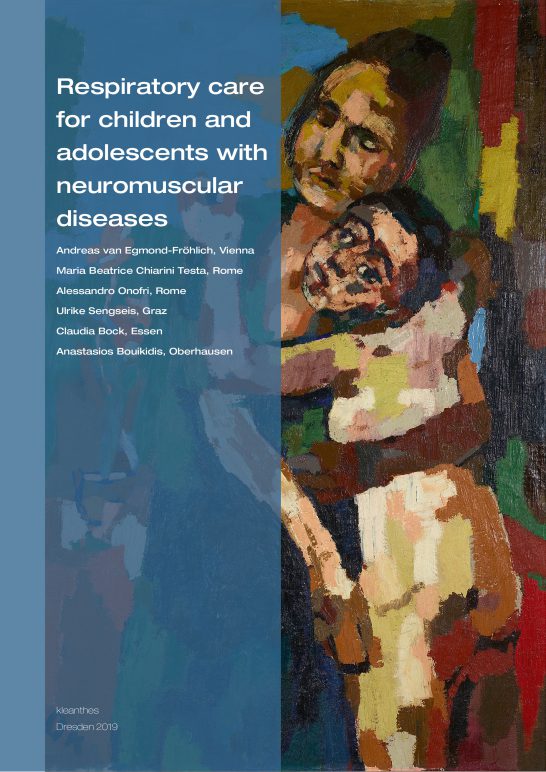 This book aims to supplement the current national guidelines on out-patient mechanical ventilation for children and adolescents with neuromuscular diseases (NMD). Our focus is on the practical issues regarding proactive non-invasive treatments, and we will outline the revolution in the treatment of spinal muscular atrophy (SMA) induced by orphan drugs.
Approximately half of long-term home-ventilated children and adolescents suffer from a neuromuscular disease. Advances in pharmacological treatment, interdisciplinary care and non-invasive respiratory care are changing this field. The treatment of spinal muscular atrophy has recently been revolutionized by the orphan drug nusinersen. Once combined with newborn screening even children, that would have developed SMA type 1, learn to walk and have survived without continuous ventilation. Adolescents with Duchenne muscular dystrophy are getting older at initiation of ventilatory support in the framework of prolonged systematic corticosteroid therapy and proactive respiratory care. Respiratory care is progressively shifting away from invasive ventilation via a tracheostoma and toward a pyramid of proactive non-invasive respiratory therapies. This new paradigm consists of early follow-up by an experienced pediatric pulmonary team, early lung-volume recruitment, and timely manual or mechanic cough support. Non-invasive ventilation spans all the way from intermittent ventilation during exacerbations, to ventilation during sleep and to the addition of day-time mouth-piece ventilation in fully ventilator -dependent patients. While a variety of sophisticated prefabricated masks are now available for all age-groups, custom-made masks still have a role to play. The newly recognized risk of mid-face hypoplasia in patients who receive nasal mask ventilation from an early age, for many hours a day, and for many years requires preventive measures. Neuromuscular centers need to include or closely cooperate with experienced respiratory care teams. Structured care is as important as new drugs. A well-designed international database for pediatric out-patient long-term ventilation could help to expand the evidence base and quality of respiratory care.
ebook (PDF)
© kleanthes Publishing for Medicine and Prevention, Dresden 2019
Proofreading: Schnellübersetzer GmbH, Cologne
Sales and Design: Bettina Lindner, Dresden
Cover: Oskar Kokoschka, 1922 (Dresden time), Mother and child, hugging each other. © Belvedere Wien, Photo: Johannes Stoll; © Fondation Oskar Kokoschka/ VG Bild-Kunst Bonn, 2019. With friendly permission.
ISBN 978-3-9426622-27-1